Silo and Tank applications
Grain Silo applications
On the volcanic island of Saint Vincent in the Caribbean, Sky Climber recently spent some time working with a grain processing company to provide rigging equipment and safety training.
To clean and paint its grain silos this company chose a Sky Climber Platform with an adjustable corner at its center powered by two Compact 1000 air hoists.  Additionally, Sky Climber made special cornice hooks for the customer to use when rigging on silos.  This equipment package is used on grain silos and other structures that are part of a mill system which allows the company to process flour for the island.
Sky Climber personnel spent time on-site to provide rigging support and conduct training for work crews.  This equipment configuration will help the company easily power-wash and paint the exterior surfaces of its silo structures.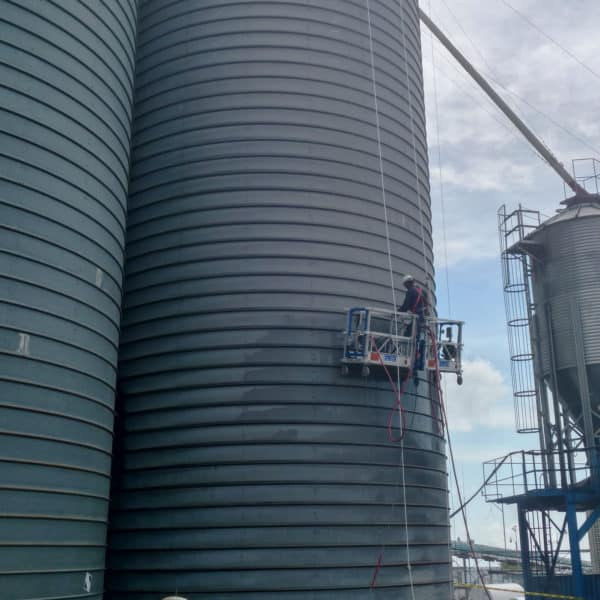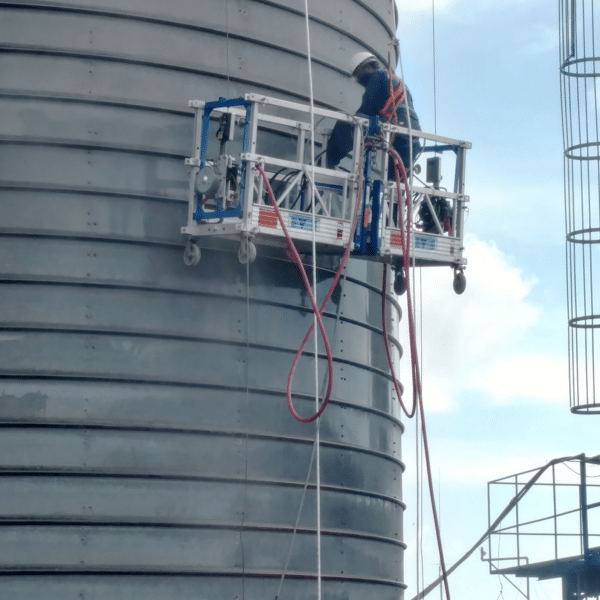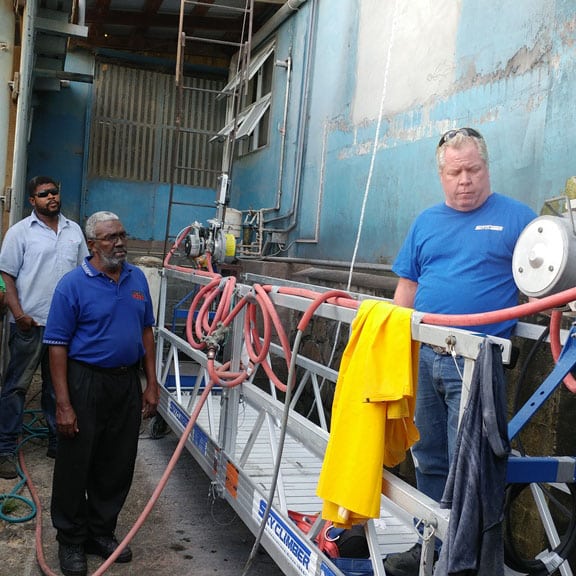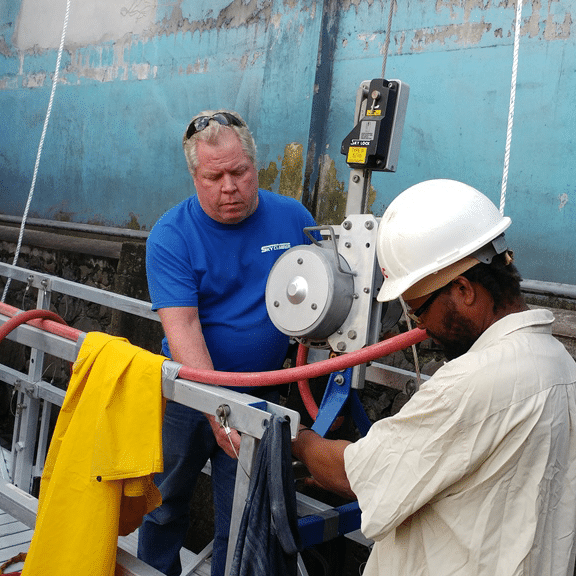 Tank applications
Ideal for tank applications, the SKYMASTER® is a mast anchor system that incorporates the use of standard Sky Climber platforms, work cages and hoists.
The system was originally developed for restoration contractors that needed suspended access without topside rigging. Almost immediately, new applications for this versatile equipment came to light. Tank painters began using the SKYMASTER® on "silo type" and "top" tanks. The wall tie brackets can be welded or epoxied to the tank for future repainting, making the E&D a fast and easy.
No top side rigging is used on SKYMASTER®. Horizontal lifelines are used eliminating separate tie-off points on top side.  Plus, this system is lighter than traditional mast climbing systems and is portable in the bed of a pickup truck. This ease of mobility means an immediate savings in transportation costs and lower erection and dismantle expenses.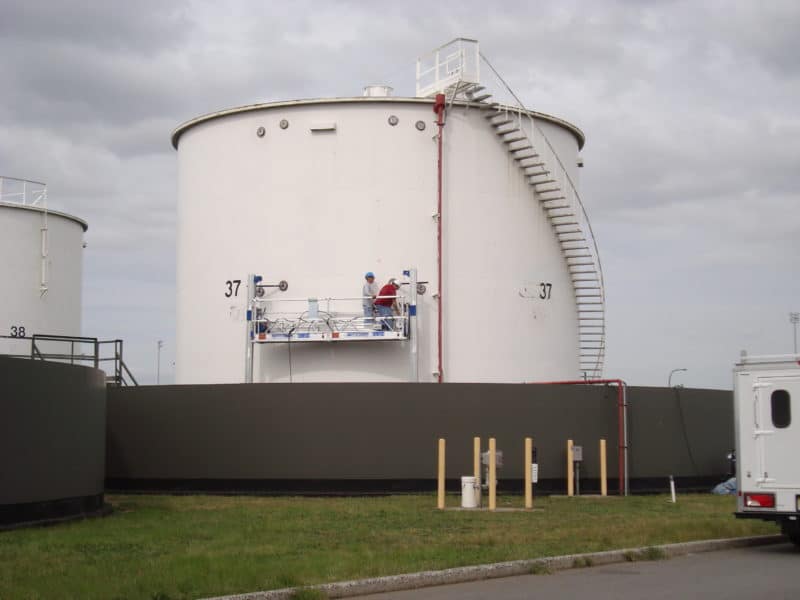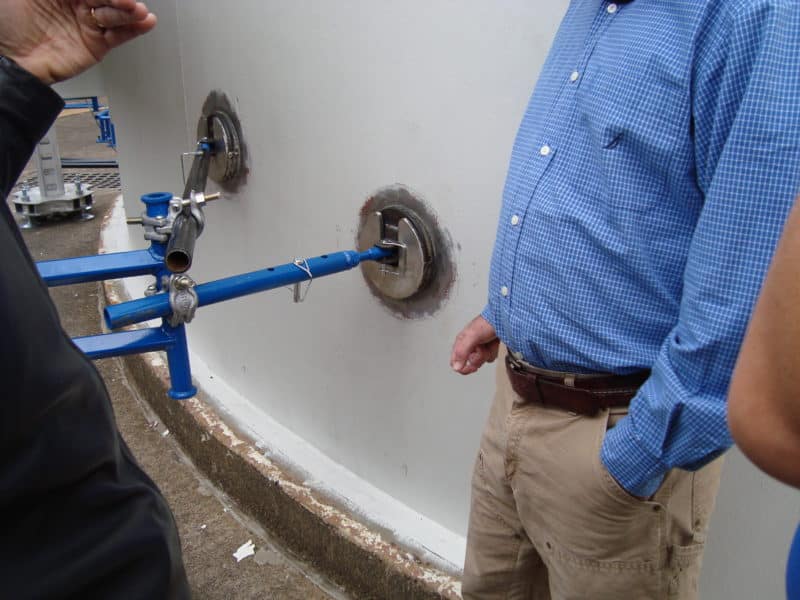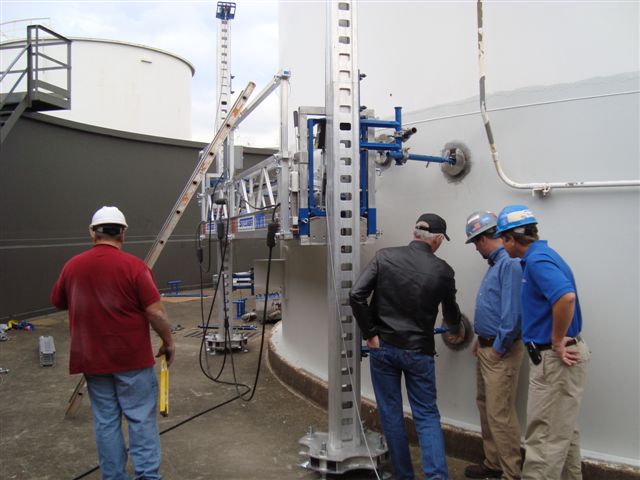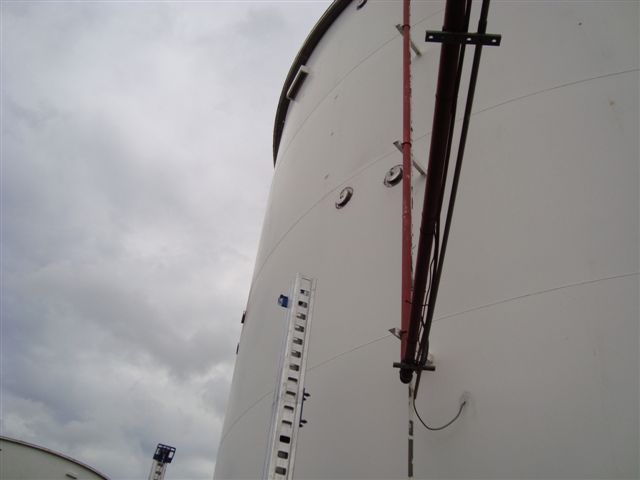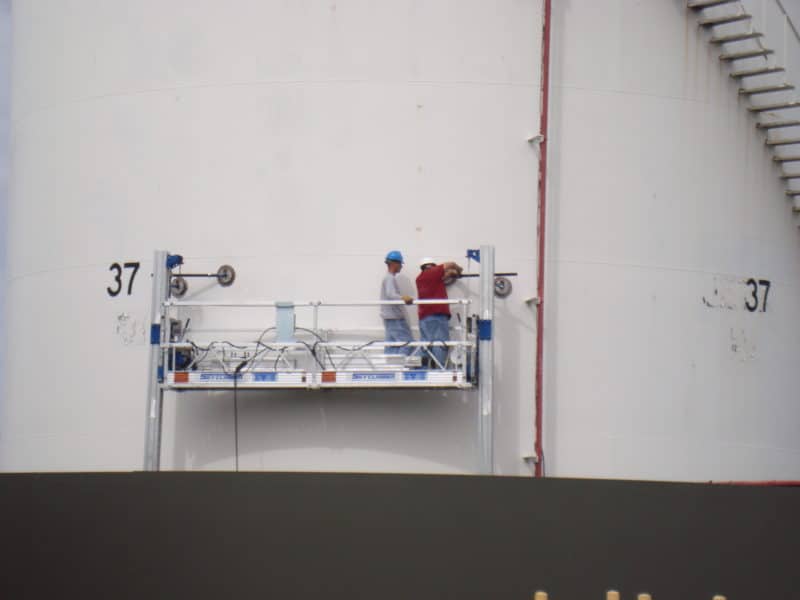 Petrochemical Tank platform application
The ElectroGas Malta tank farm is the largest in Malta and provides the majority of gas supplies on the island.  Sky Climber was selected by the maintenance contractor to develop a suspended access system to allow service and maintenance to be carried out on the vertical surfaces of the tanks. The suspended platform is used to clean, paint and repair the steel casing of the tanks.
The platform is equipped with Alpha 500 pneumatic (air) powered hoists in order to comply with ATEX regulations for spark resistant equipment. ATEX compliance is a requirement for all equipment used on the tank farm.
The platform is suspended from counterweighted roof beams. These roof beam were specially modified to allow them to cope with the domed shape of the roof of the tank. The roof beams are adjustable as the curvature of the dome varies from one tank to another.  A Sky Climber trainer was sent to site so that these new users of Sky Climber equipment could operate the suspended access system efficiently and safely.