Bridge Inspections and Maintenance
Stay cable inspection gantries in Brunei
For this project, Sky Climber Europe developed special manned and unmanned Inspection Gantries to inspect stay cables on a 30-km-long bridge in Brunei.
Daelim hired Sky Climber to develop gantries to inspect the stay cables of two cable-stayed bridge sections for this project.  Sky Climber designed, manufactured and installed the Stay Cable Maintenance Gantries for inspecting both sides of the stay cable at one time.  Each unit consists out of two electrically powered hoists, a suspension rig riding over the stay cable and a built-in petrol-powered generator. Lighting provisions are included to enable inspection and maintenance to be carried at night.
An Unmanned Gantry is used with a remote control and is equipped with a camera system and evaluation software.  When repair or maintenance is required, the Manned Inspection Vehicle will carry two technicians to necessary cable sections.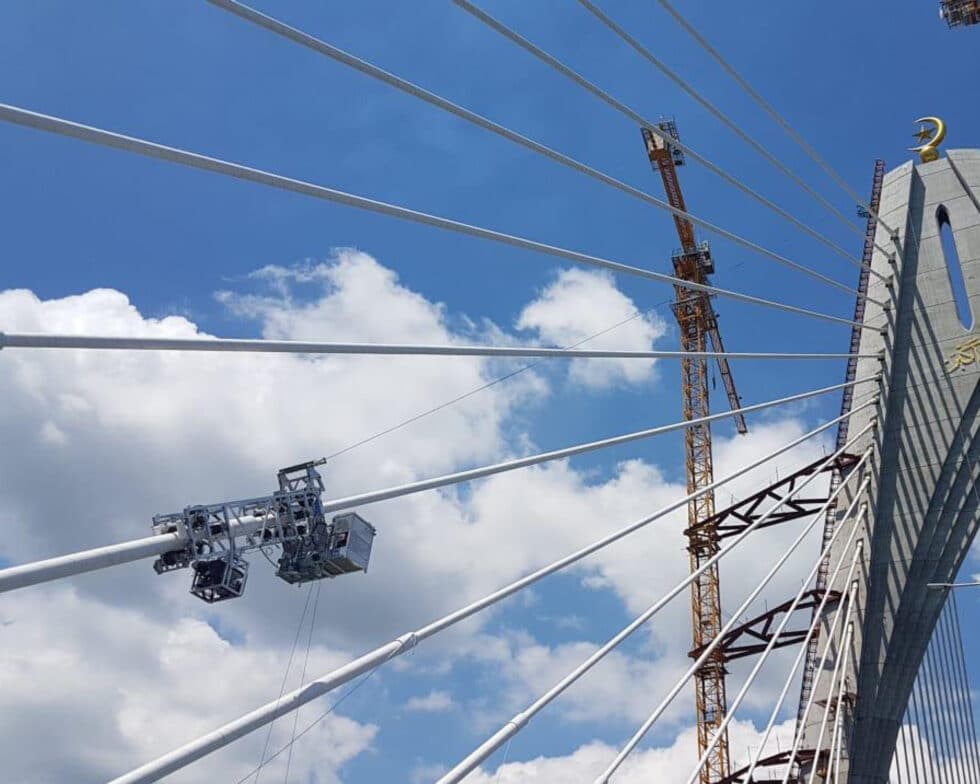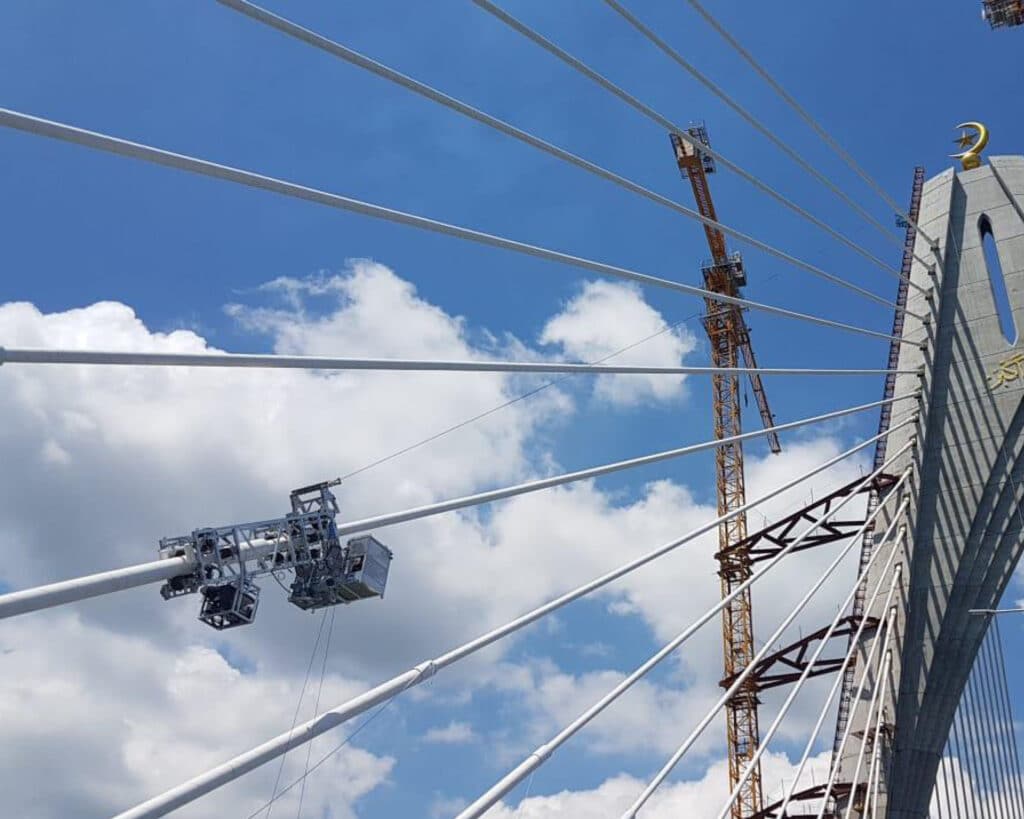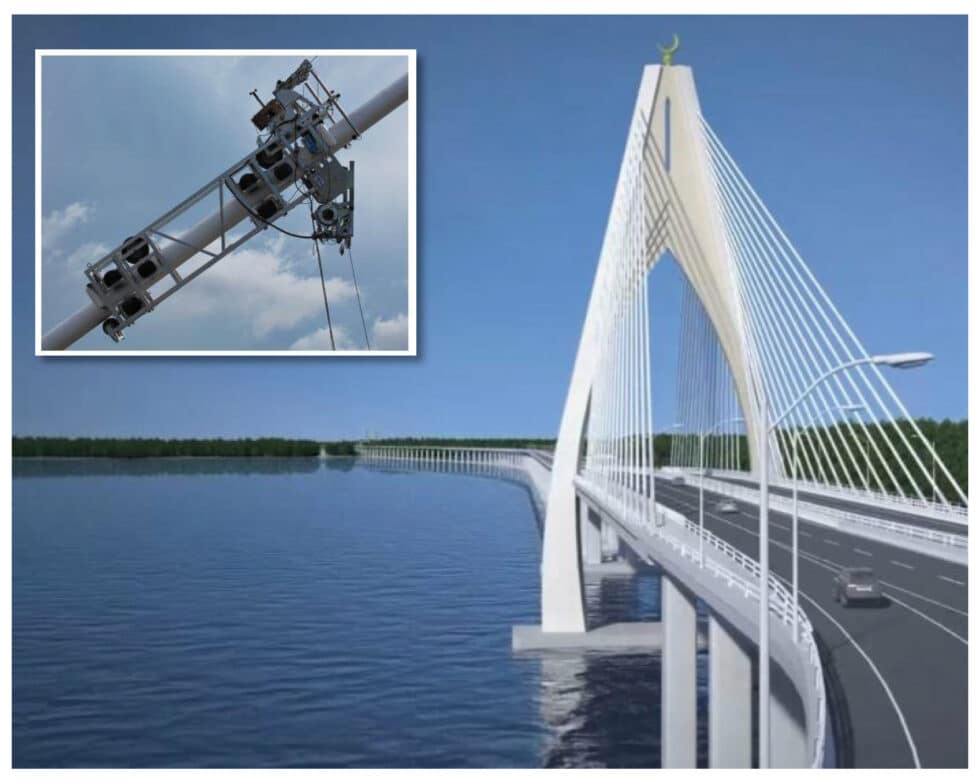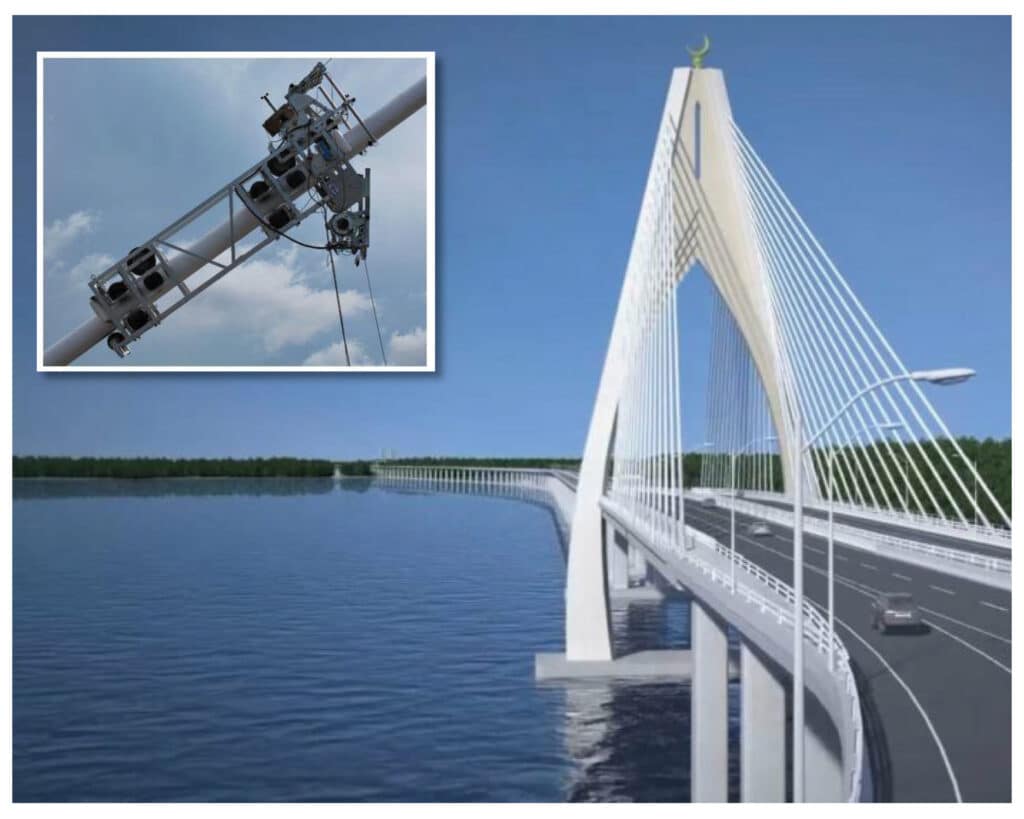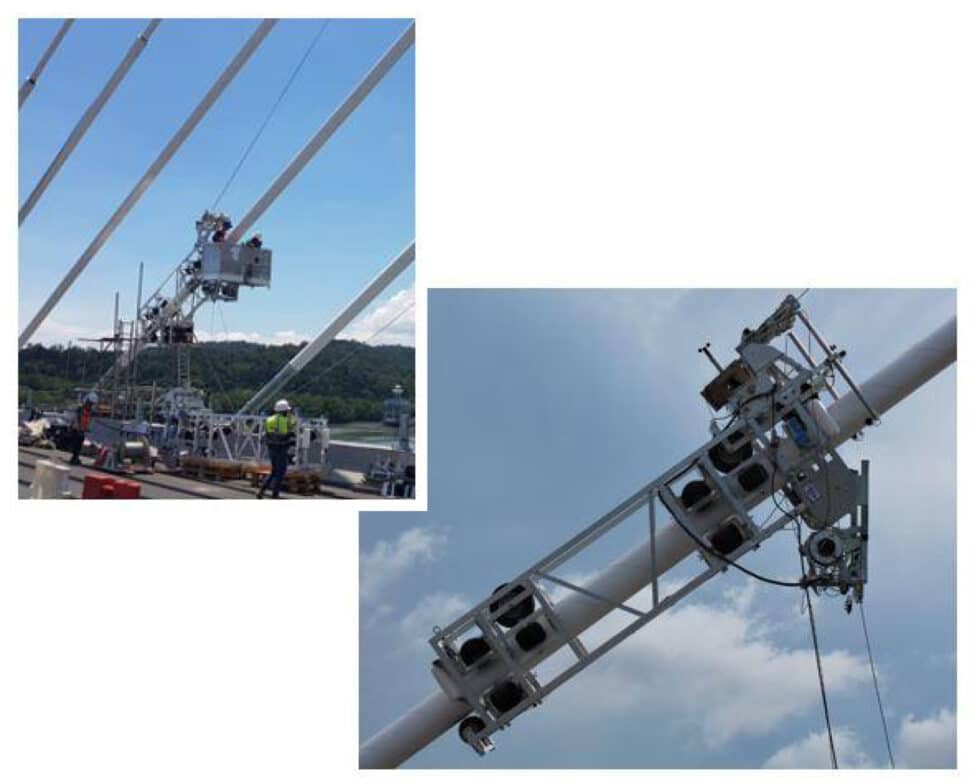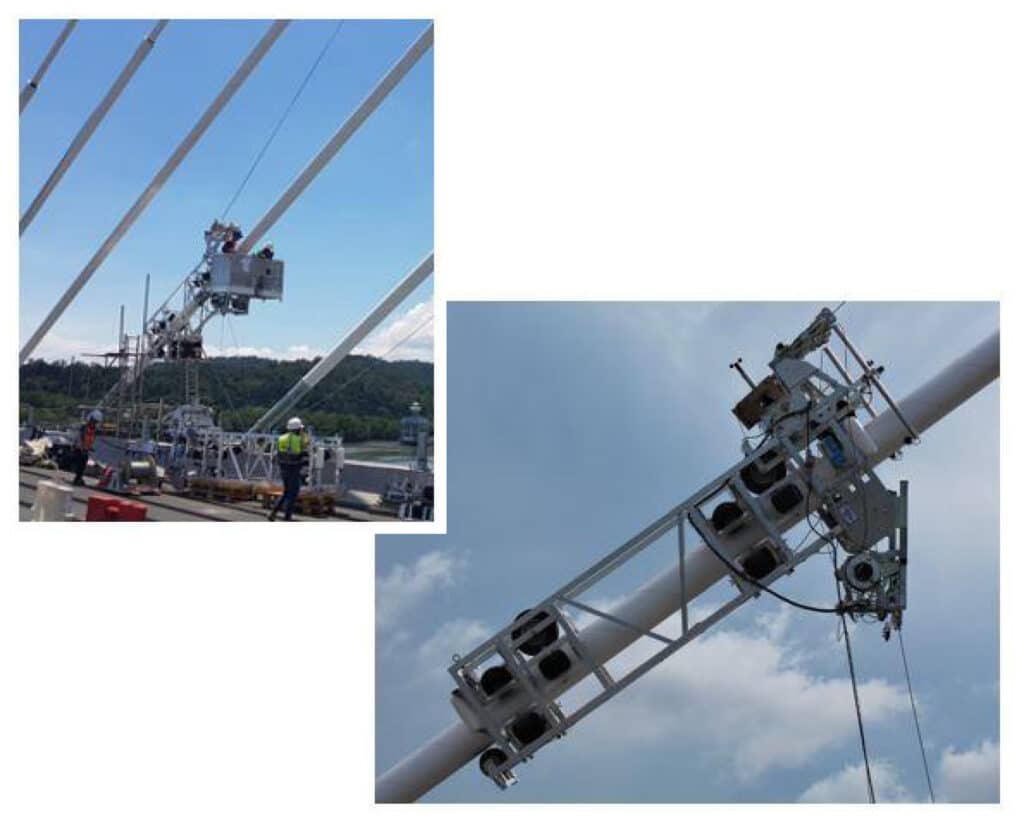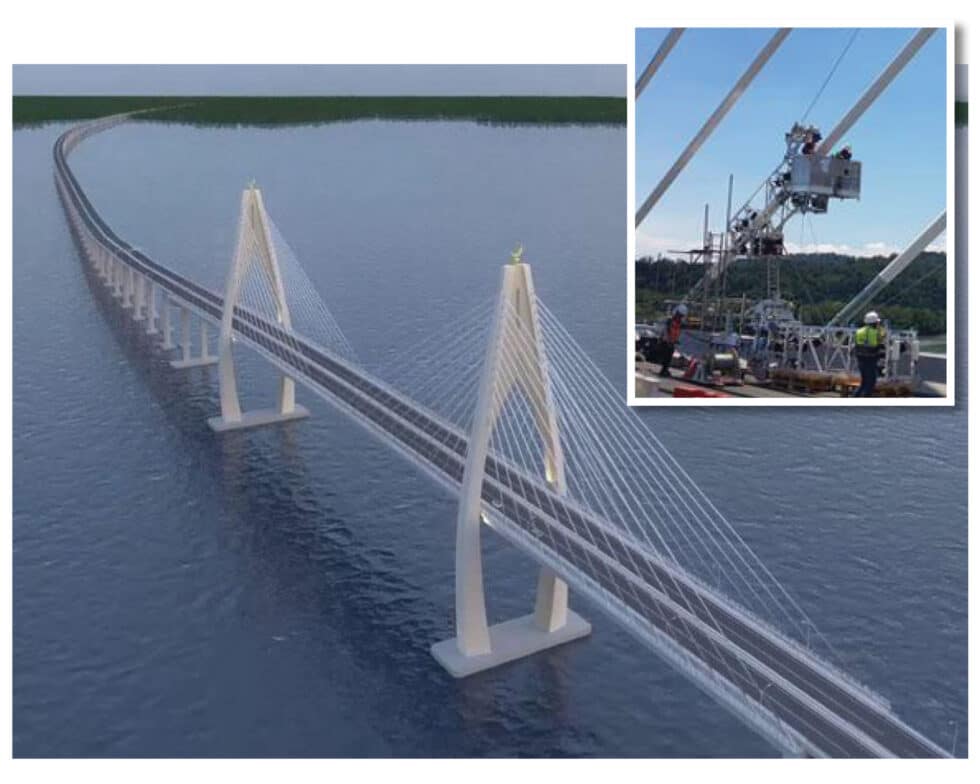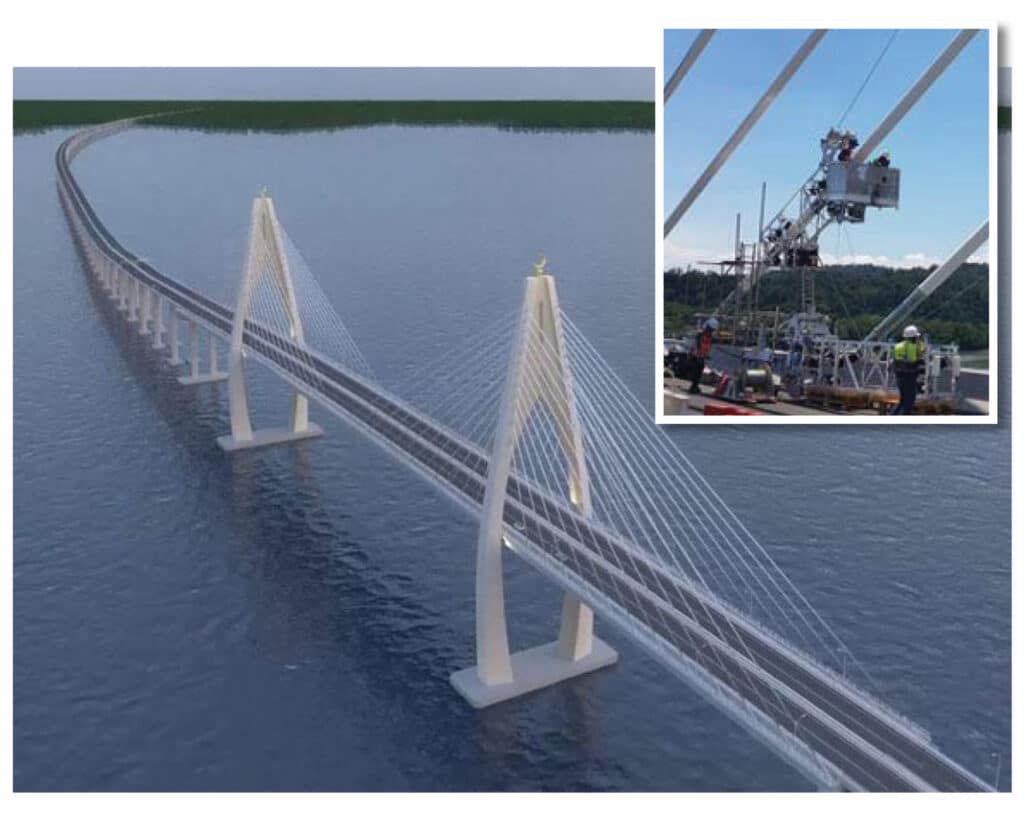 The Golden Gate Bridge in San Francisco
For one of the most iconic, recognizable bridges in the world, the maintenance work never really ends.  The Golden Gate Bridge employs a highly experienced maintenance crew that has used Sky Climber equipment throughout the bridge's history to keep it looking and working at its best.
Sky Climber has most recently provided several key pieces of equipment to enable daily maintenance on the Golden Gate Bridge.  Standard Sky Stage Ultra (SSU) Platforms are suspended under the bridge for regular coating projects on its underside.  Compact Air 1000 motors are used to power SSU platforms along with several custom platforms used to paint the suspension cables.  Sky Climber also customized a special remote control device for operating the air hoists.
Additionally, Sky Climber LLC has provided in-house training on safely servicing their own equipment.  This allows the bridge's crews to effectively plan for the long-term surface maintenance of this San Francisco landmark.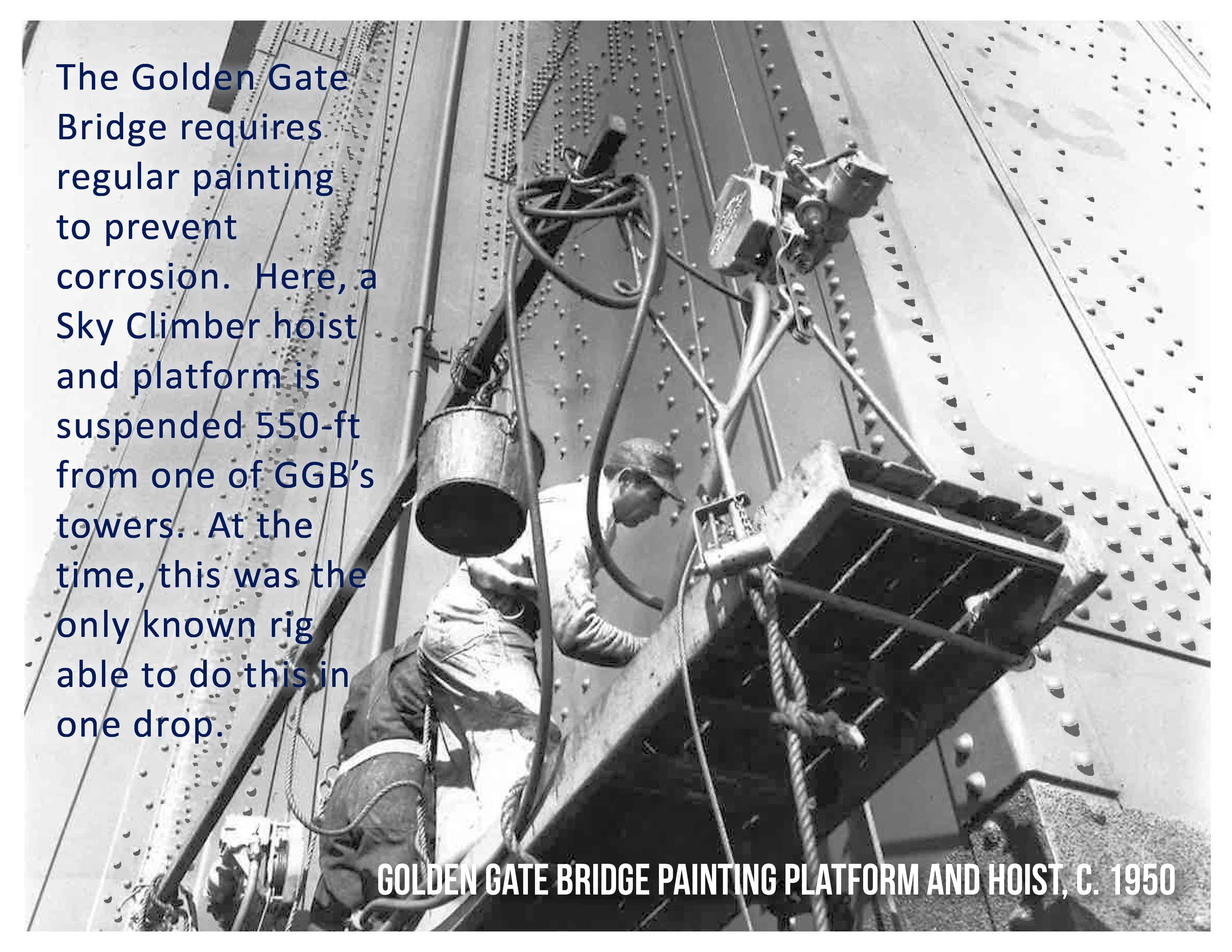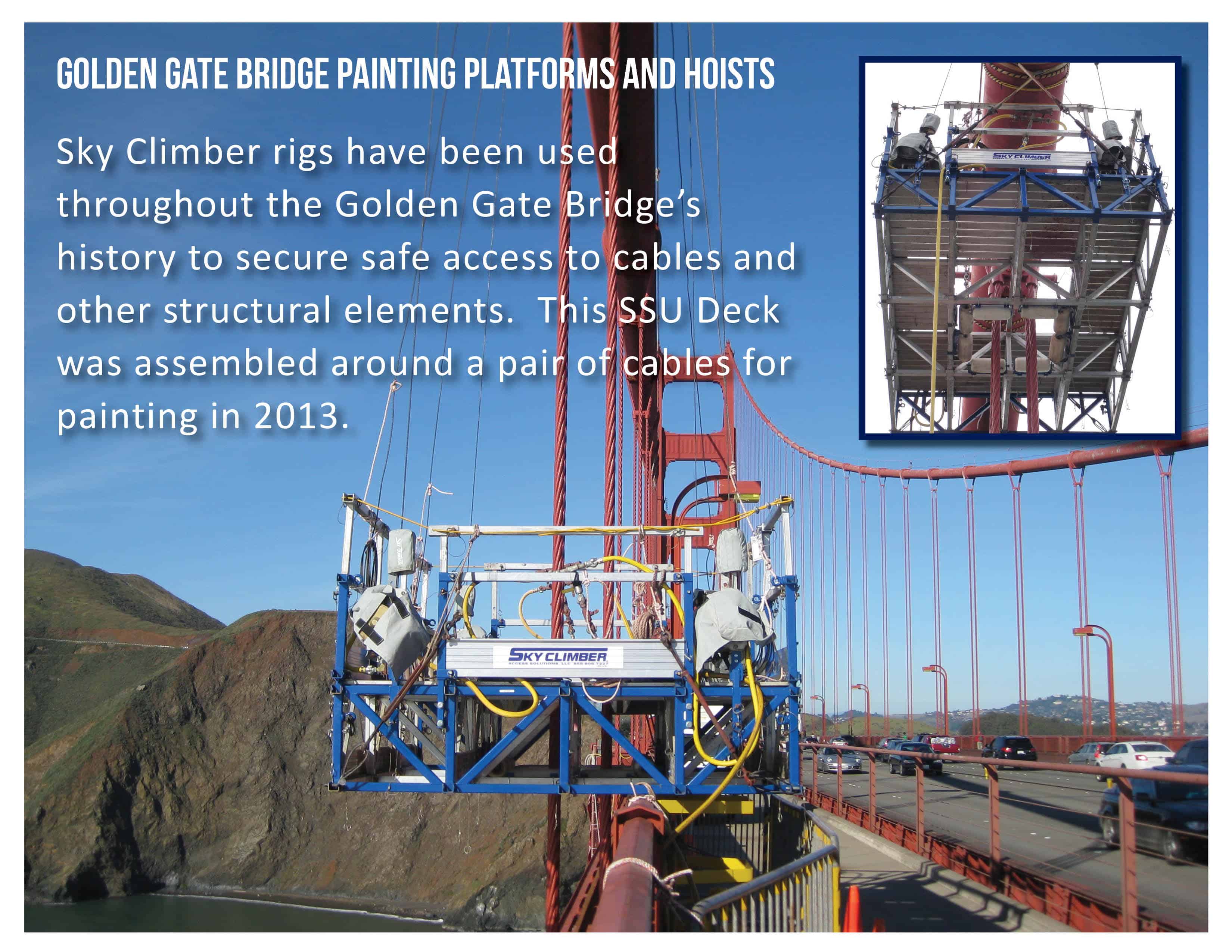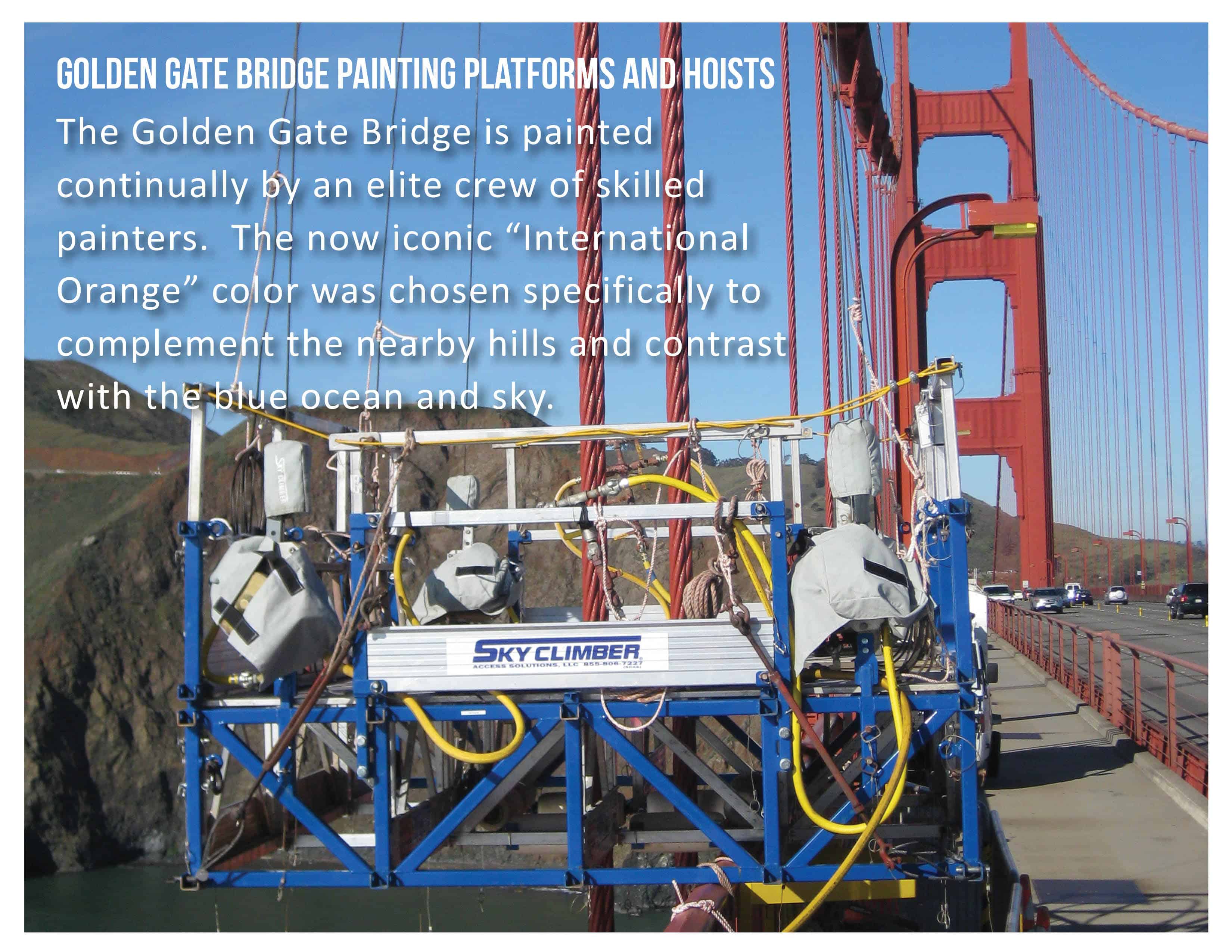 Bridge Access in the Bronx
To sandblast and paint the underside of the bridge of one of four movable bridges in the Bronx, crews encountered a major challenge:  How to service a movable bridge while allowing traffic flow both over the bridge and under it?  The Coast Guard required that the drawbridge retain its ability to be raised and lowered every other week throughout the life of the maintenance project, and work platforms could not be attached to the lift sections of the bridge during those times.  Continually installing, uninstalling, and reinstalling traditional service platforms would simply not work for this project.
Sky Climber LLC solved the access issue for what the customer described as "a project that was going to be demanding in schedule and logistics."  The solution included two floating platforms based on the Sky Stage Ultra (SSU) Decks, beam clamps, Central Control Boxes (CCBs) and LNX Electric Hoists.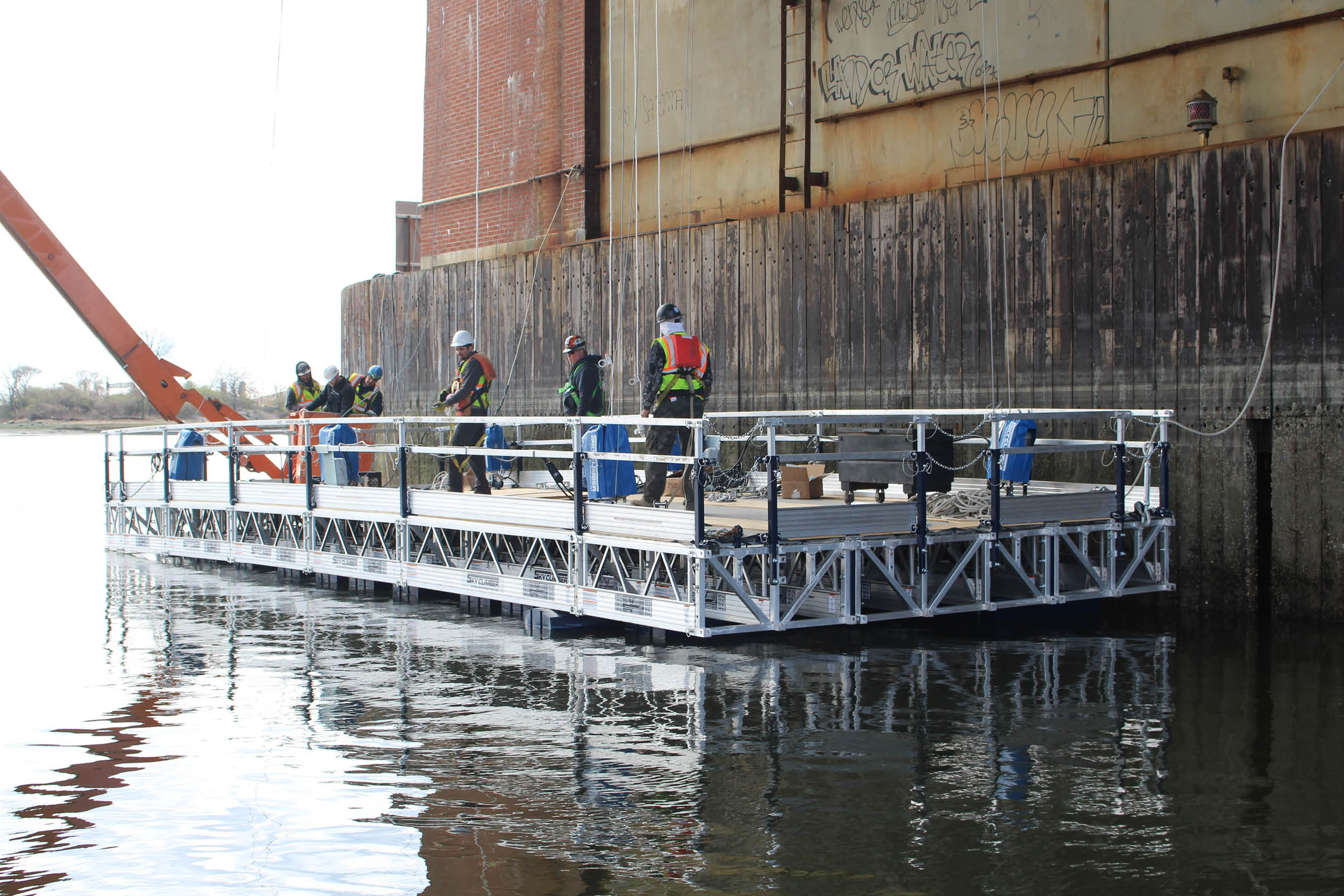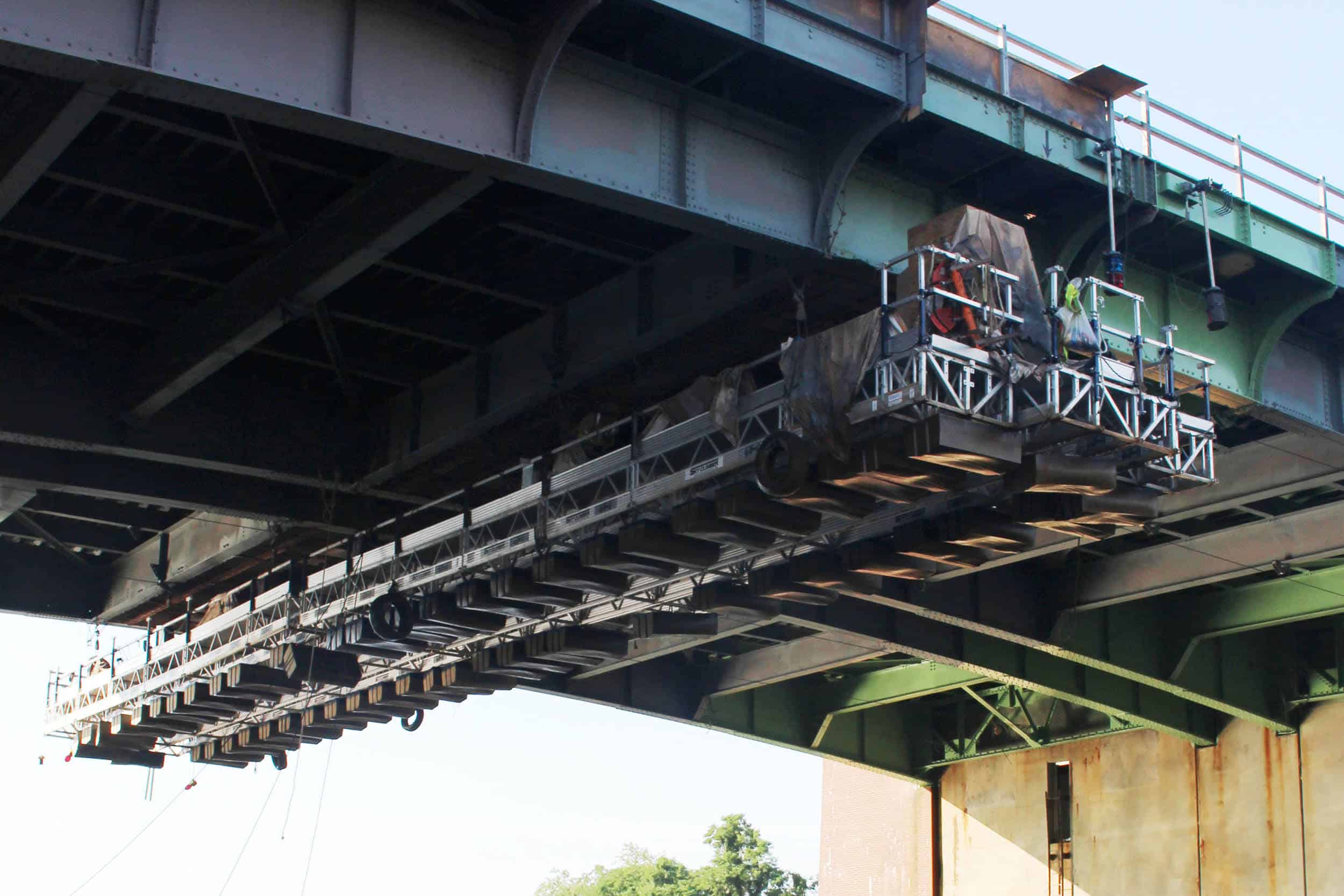 More Bridge Access examples
Sky Climber has been providing access systems for bridges around the world for decades.  Whether a Sky Stage Ultra swing stage, dance floor configuration, or completely custom solution is needed, Sky Climber has the products and engineering expertise to safely solve bridge access problems around the world.  Click through the slides on the right to see some examples.