World's Leading Suspended Scaffolding/Swing Stage Manufacturer
Sky Climber®, headquartered in Delaware, Ohio, is the industry leader in designing, manufacturing and distributing suspended access equipment used in industrial/commercial construction and maintenance applications.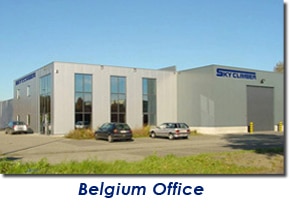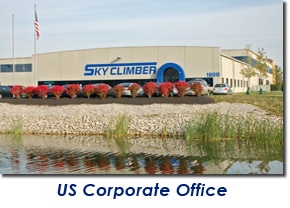 Today Sky Climber® with its global dealer network, enjoys the distinction within the industry of brand name recognition, a reputation for developing and manufacturing superior quality products and for being the first to offer many of today's innovative suspended access products. Some of those innovative firsts include:
First to offer a full-size modular knock down work platform that will fit through an 18 inch (457 mm) opening;
First to offer factory training for Service and Repair;
First to introduce a traction hoist for suspended access purposes;
First to introduce a Rolling Roof Rig capable of an 8-foot (2.5m) outreach;
First to offer a "no hassle" 3-year warranty;
First to offer a hoist that weighs so little (40 kg or 76 lbs.) and lifts so much (500 kg or 1250 lbs).
At Sky Climber®, we use our own industry experience along with that of our dealers to make and improve products. From multi-tier platforms to single man boson chairs, count on Sky Climber® to provide you with the ideal access solution. Sky Climber®, here yesterday, today and tomorrow.