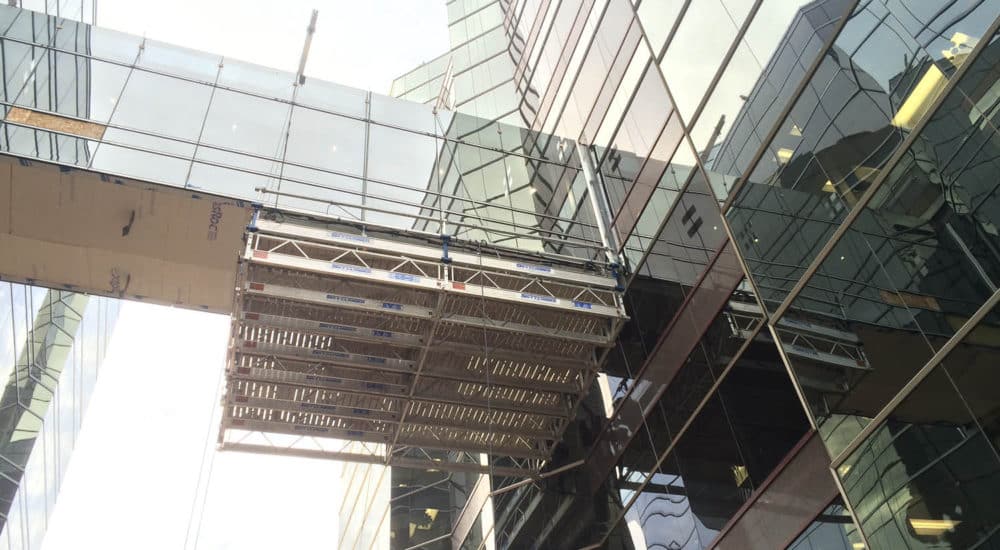 Crews recently rigged a dancefloor platform using Sky Climber's SSU Deck equipment to access the underside of a pedestrian bridge linking office buildings in downtown Regina, Saskatchewan.
The central building, known as Agricultural Place, is a modern Class A tower that features climate-controlled links or pedestrian bridges.  When crews needed to perform glazing and metal cladding work on the underside of one of these bridges, Vertical Access Limited teamed up with Sky Climber LLC to design a platform and rigging system for the site.
The platform represented a fairly standard Sky Stage Ultra Deck configuration, utilizing four Compact 1000 hoists to power the stage.  The overhead rigging, however, proved to be more unique.
The final design incorporated 4 rolling roof rig dolly assemblies, turnbuckles, rigging collars and two custom 16-foot rigid beams which stretched across the roof of the bridge.  The deck was suspended under the walkways from these beams, creating a system that wrapped around the bridge.  As work progressed down the length of the bridge the entire rigging was simply rolled along its roof, enabling the platform underneath to move into the correct place for glazing and metal cladding work to continue.
Although initially concerned about the stability of the rolling roof rigs, Matt Ashley of Vertical Access stated "The rolling beam dollies were beyond stable as they kept the support system in place – they never budged."  The sturdiness and reliability of the rigging design meant that crews could focus energy on navigating the small footprint of the construction site and the regular safe operation of the hoists.  Overall, the effectiveness of the Sky Climber rigging design and the expertise of Vertical Access' installation crews made this project a success.
Vertical Access Limited is a Sky Climber Authorized Dealer with Canadian branches in Calgary, Edmonton, and Saskatoon.  http://verticalaccess.ca/contact-us/